​Your search for a multipurpose power backup module for your embedded computing products ends here. This power backup module though designed for Raspberry Pi can be easily used with other embedded PCs as well. With a capacity of 3500mAh 18650 cells, this module can provide backup of up to 2 hours to your device. Backup time depends on cell capacity and peripherals connector to your Raspberry Pi. It is able to charge the batteries and provide power output at the same time from the external power supply Automatically switch over to batteries output if the external power supply is unavailable, keeps the system running without any trouble.

Designed for Raspberry Pi but can be used with any embedded PC or electronic system which require stable 5V output.

Work with all variants of Raspberry Pi

I2C bus communication

Monitoring the batteries voltage, current, power, and remaining capacity in real-time

Standard Raspberry Pi 40PIN GPIO extension header, supports Raspberry Pi series boards

Works with standard 18650 Li-ion cells. Require 2 cells.

8.4V 2A charger included in the package.

Stable 5V 2.5A output for uninterruptible power supply.

Dimension : 56 × 85mm

overcharge/discharge protection,

overcurrent protection, short circuit protection, and reverse protection,

Equalizing / Balanced charge feature, more safe and stable

Battery reverse connection warning indicators ensure correct polarity.
You can just attach the UPS HAT on the 40PIN GPIO of Raspberry Pi or connect the i2c interface and to Raspberry Pi by wires. VCC should be connected to 3.3V
Open a terminal and run the following commands:
sudo apt-get install p7zip
wget https://www.waveshare.com/w/upload/d/d9/UPS_HAT.7z
7zr x UPS_HAT.7z -r -o./UPS_HAT
cd UPS_HAT
python3 INA219.py

The terminal will print the IP address, battery voltage, current and the percentage of battery quantity, as well as the CPU, GPU and memory information after starting the server.


Note: if the current value is negative, it means that the batteries are feeding the Raspberry Pi. If the current value is positive, it means that the batteries are charging.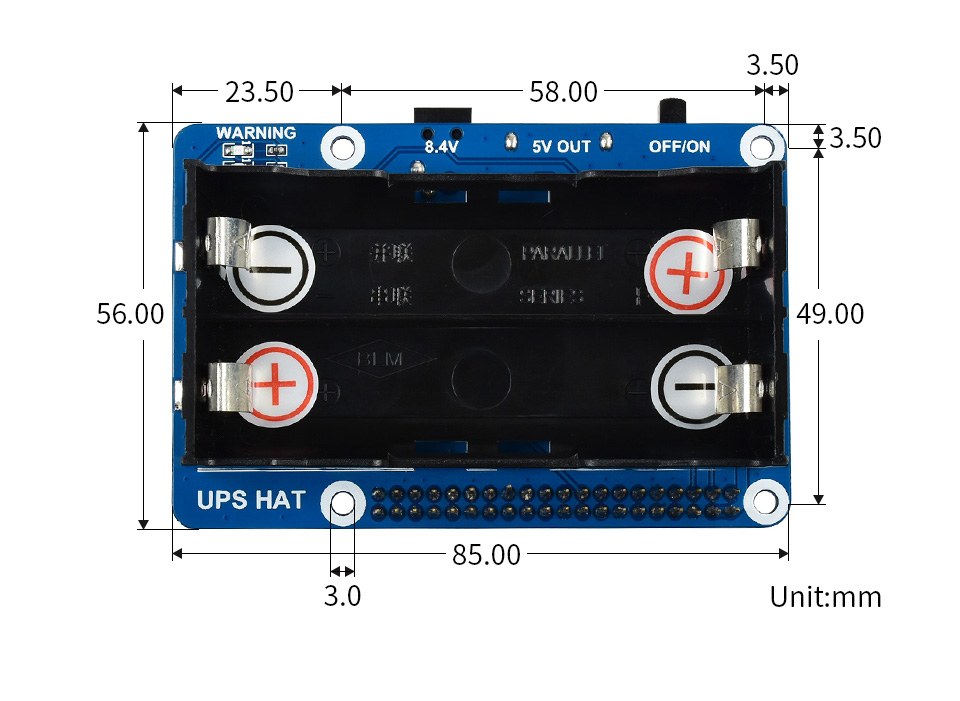 Package Includes :
UPS HAT x1
8.4V battery charger x1
2×20PIN female header x1
RPi screws pack (2pcs) x1