SX1262 433/470MHz LoRaWAN Node Module Expansion Board for Raspberry Pi, With Magnetic CB antenna & GNSS Function
This series of products are LoRa modules using the new generation of SX1262 RF chip, with the features of long communication distance and strong anti-interference ability. Suitable for Sub-GHz frequency band network, and is available in LF (410~510MHz) or HF (850~930MHz) frequency band versions. Combined with a LoRa gateway, it can be connected to servers such as TTN to build a LoRaWAN network. In addition to the basic LoRaWAN version, it also provides optional GNSS positioning function with GPS/BD support.


User Manual / Datasheet / Example Codes Etc.

Features
Common features:
Standard Raspberry Pi 40PIN GPIO header, supports Raspberry Pi series boards

The new generation SX1262 has higher power efficiency and longer transmission distance than the SX1278

Suitable for Sub-GHz band, combined with the gateway, can be quickly connected to a cloud server such as TTN to build a LoRaWAN network
GNSS features:
Onboard L76K module with GPS/BD support, provides accurate clock and location info for node module

Onboard button cell holder, supports ML1220 rechargeable cell, for preserving ephemeris information and hot starts

Onboard 4 LED indicators for module operating status

Comes with online development resources and manual (example in C)
Specifications

RF CHIP :

SX1262

FREQUENCY BAND

: LF: 410 ~ 510MHz /

HF: 850 ~ 930MHz

MODULATION

:

LoRa / (G)FSK

DATA RATE

:

LoRa: 0.018 ~ 62.5Kbps /

(G)FSK: 0.6 ~ 300Kbps

EMIT POWER

: [email protected]

SPREADING FACTOR

:

SF7 ~ SF12

OPERATING VOLTAGE

:

3.3V

MODULE CURRENT CONSUMPTION

: emitting current: [email protected] / receiving current: [email protected]

COMMUNICATION BUS

:

SPI

OPERATING TEMPERATURE

:

0 ~ 50℃

INTERFACE

:

40PIN GPIO header
GNSS Specifications

GNSS MODULE

:

L76K

GNSS TYPE

:

GPS/GLONASS/BDS/QZSS

L1 BAND RECEIVER (CHANNELS)

:

32 Tracking ch/72 Acquisition ch

A-GNSS

:

support

RECEIVING SENSITIVITY

(ACQUISITION, RE-ACQUISITION, TRACKING)

:

-148dBm, -160dBm, -162dBm

TTFF (TIME TO FIRST FIX)

COLD STARTS

:

30s, Autonomous /

5.5s, With AGNSS

POSITION ACCURACY

:

2.0m CEP

SPEED ACCURACY

:

0.1m/s

ACCELERATION ACCURACY (MAX)

:

0.1m/s²

UART RATE

:

Range: 4800~115200bps /

Default: 9600bps

GNSS DATA UPDATE RATE

:

Max: 5Hz/

Default: 1Hz
Package Includes
SX1262 433/470M LoRaWAN/GNSS HAT x1

433/470M Magnetic CB antenna x1

GPS antenna x1

IPEX to SMA adapter cable ~17cm x2

Screws pack x1

2×20PIN female pinheader x1
Pinout Definition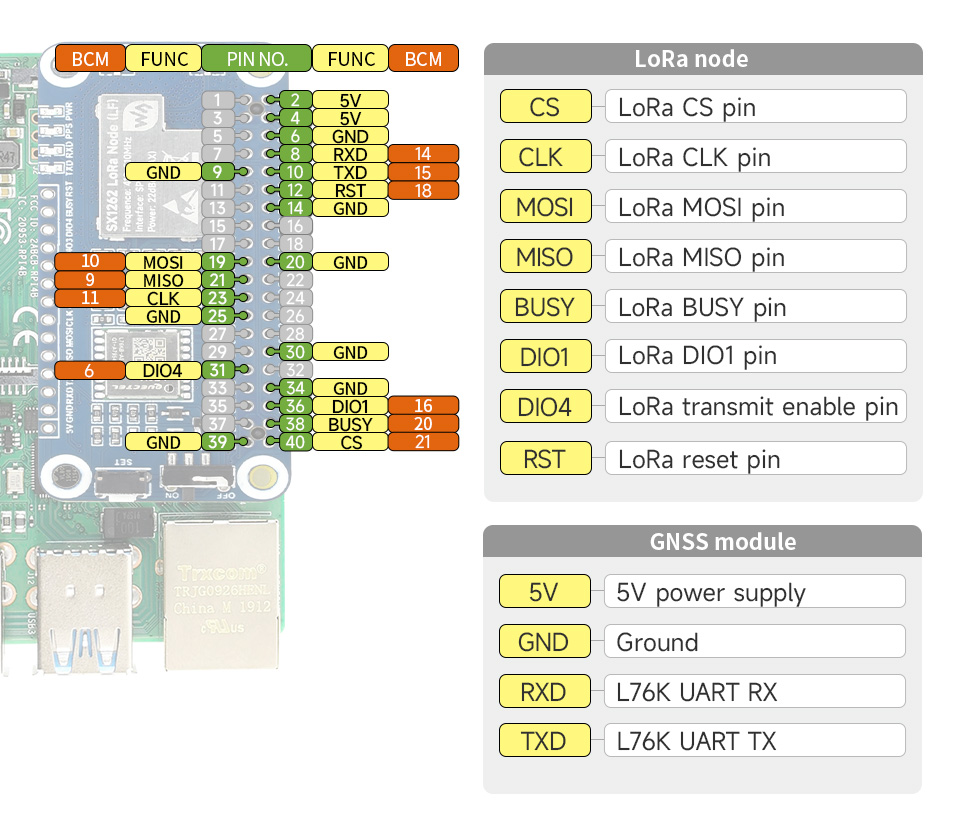 What's On Board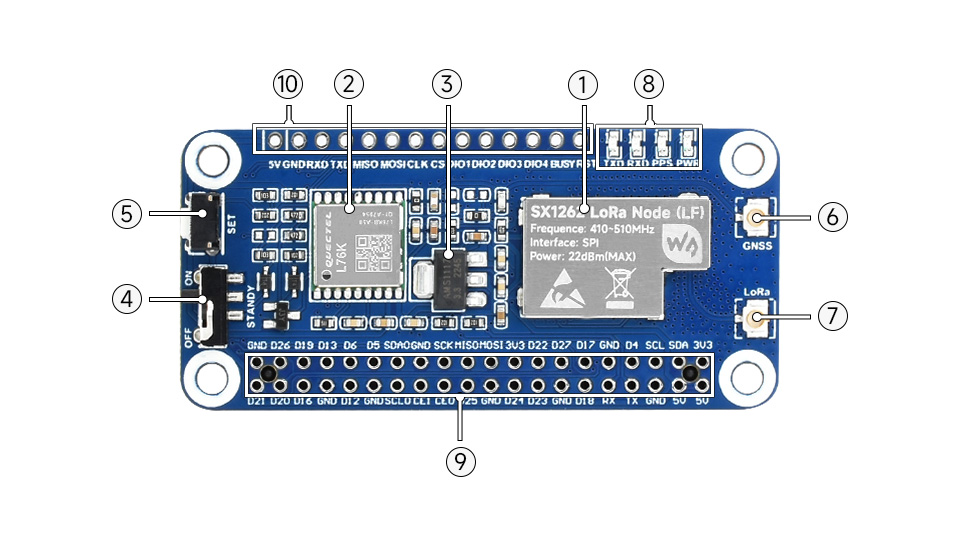 SX1262




LoRa module

L76K




GNSS module

Power chip




5V to 3.3V LDO

GPS STANDY mode ON/OFF




OFF: turn off STANDY and GPS works normally




ON: turn on STANDY, GPS stops outputting NMEA

SET button




Press to wake up the GNSS module in sleep mode
GNSS module IPEX 1 connector




L76K antenna connector

LoRa module IPEX 1 connector




LoRa antenna connector

Status Indicator




PWR: power indicator




RXD/TXD: UART RX/TX indicator




PPS: GPS status indicator

Raspberry Pi 40PIN GPIO header




for connecting with Raspberry Pi series boards

LoRa module and GNSS module pin header
Dimensions