Industrial Grade CAN/CAN FD Bus Data Analyzer, USB To CAN FD Adapter, CAN/CAN FD Bus Communication Interface Card
The USB-CAN-FD is an industrial-grade high-performance USB to CAN FD adapter, CAN/CAN-FD bus communication interface card, and CAN/CAN-FD protocol data analyzer. Onboard dual independent CAN FD interfaces with electrical isolation and multiple protection circuits. Supports Windows XP/7/8/10/11 system, comes with drivers, CAN FD Tools related software, secondary development examples, and tutorials.
It can be connected to the PC or industrial control host via a USB port to realize transceiver control, data analysis, collection and monitoring of CAN/CAN FD bus network. It is compact in size and easy to use, which can be used for learning and debugging of CAN/CAN FD bus, as well as for secondary development and integration into various industrial, power communication, and intelligent control applications that require CAN/CAN FD bus communication.

User Manual / Datasheet / Example Codes Etc.

Specifications
PRODUCT TYPE

Industrial grade: USB to CAN FD interface converter, CAN/CAN FD bus communication interface card, CAN/CAN FD protocol data analyzer

USB

Operating voltage

5V (directly powered by USB port without external power supply)

Connector

USB-B

CAN/CAN FD INTERFACE

CAN/CAN FD channel

Dual-channel: CAN1 and CAN2 (independent and full-isolated, isolated voltage: 3000V DC)

Connector

CAN bus screw terminal (OPEN6 5.08mm pitch)

Terminal resistor

Each CAN/CAN FD channel has two built-in 120Ω terminal resistors, which can be enabled by switch

Baud Rate

100Kbps~5Mbps (Configurable via software)

Protocol Support

CAN2.0A, CAN2.0B, and ISO 11898-1 CAN FD protocol V.1.0

Transfer speed

The receiving and sending speed of each CAN/CAN FD channel can reach 20000 frames/s and 5000 frames/s

Transmit buffer

1500 frames receiving buffer and 64 frames sending buffer per channel (automatically retransmit when the transmission fails)

INDICATORS

PWR

Power indicator

SYS

System status indicator, normally off; keeps on when there is a bus error

CAN1

CAN1 channel indicator (blinking when sending and receiving data)

CAN2

CAN2 channel indicator (blinking when sending and receiving data)

SYSTEM SUPPORT

Windows

Windows XP/7/8/10/11 (32/64 bits); Does Not support the Linux system now, and the related drivers are under development.

OPERATING TEMPERATURE

-40~85℃

CASE MATERIAL

Aluminum alloy case + 3D flame-retardant insulating sheets on both sides (This design can provide better protection against metal tip discharge, also improves product safety, and extends service life)

DIMENSIONS

104 × 70 × 25 mm
High-Performance Hardware Solution
Adopts Microchip Original Controller And 32-Bit MIPS M4K® Core, Up To 80MHz Frequency. High Performance, Stable And Reliable
Programmable Baud Rate, Automatic Detection

Supports Protocol Conversion Between USB And CAN/CAN FD Bus
Supports Multi Development Environments
Supports Decoding And Analyzing For Multiple CAN Protocols
Support Up To 128 Devices At The Same Time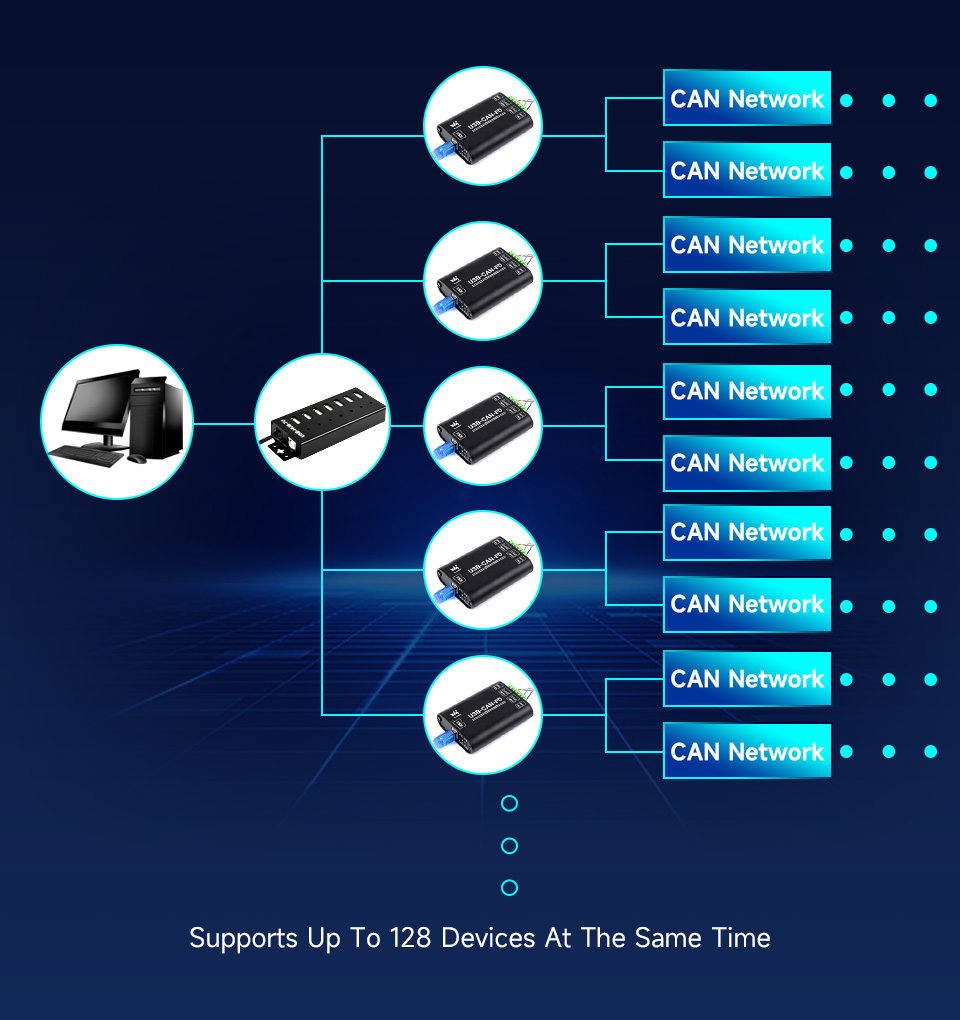 Interface Introduction
Package Includes
Dimensions